Iray for 3ds Max is a plugin renderer developed by Lightworks that creates physically accurate renderings for example to create a 3D configurator in real time by tracking light paths. It unleashes the full power of iRay's interactivity and scalability with an easy-to-use, intuitive workflow that maximizes productivity by providing instant visual feedback during scene development. The Nvidia vMaterials Library supports material exchange with other MDL-compatible applications as well as the simple creation or modification of physically based luminaires and materials using a layer model.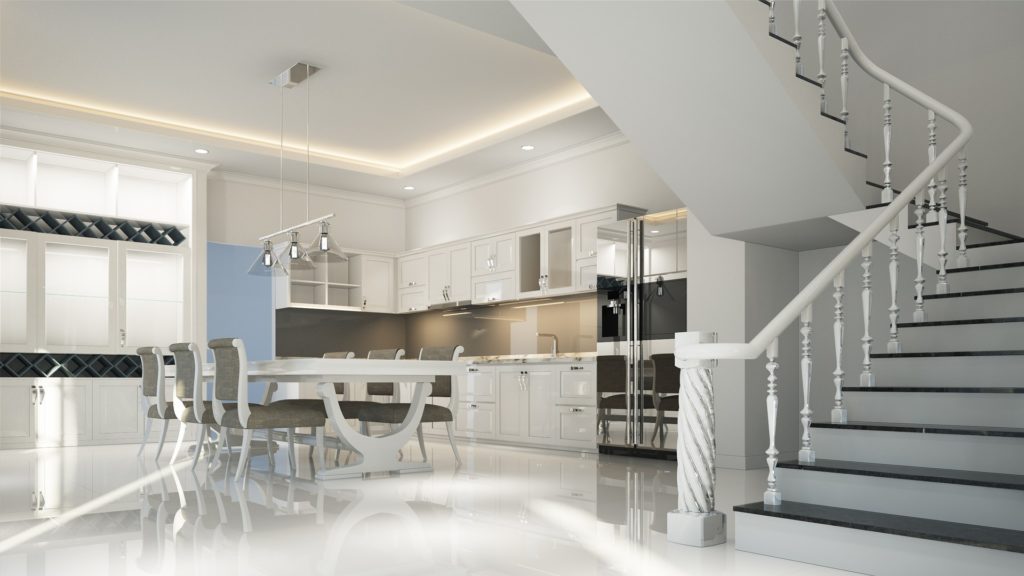 In this article we will describe the concepts and features of the plugin as well as help and advice on using iRay for 3ds Max. This guide assumes familiarity with the user interface and concepts in 3ds Max.
What is iRay?
Iray for 3ds Max is a physically based raytracing renderer with precise materials based on Nvidia's Material Definition (MDL) standard. This physically accurate engine allows you to create high-quality images and animations with a realistic approach to materials, cameras and lighting. The lighting in an iRay rendered image is authentic to the real world, as all light interactions in your scene are accurately represented.
Iray for 3ds Max is based on Nvidia's iRay technology, which is used in many high-end professional applications and by leading design and visualization companies around the world. Iray has improvements, including an easy-to-understand material structure and usability enhancements.
Iray for 3ds Max extends the capabilities of the iRay implementation currently included in some versions of 3ds Max with new features such as full MDL support, interactive rendering, support for cloud or remote renderings, and an improved approach to using and creating physically accurate materials.
The iRay plug-in includes 2 renderers: iRay+ Renderer creates production images, while iRay+ Interactive Renderer allows you to navigate models in real time with results that are virtually indistinguishable from iRay Renderer. Iray also supports remote rendering, allowing you to take advantage of the GPU power of cloud rendering and rendering farms.
Why use iRay?
Concepts.
Iray for 3ds Max is based on the basic concepts of the real world, with light physics, photographic settings and the structure of materials that are all lifelike. We use practical concepts and present the necessary parameters to obtain breathtaking images and animations.
Interactive rendering.
Iray Interactive Renderer uses advanced approximation algorithms to mimic realism while minimizing unwanted noise. This gives you more speed in your workflow. The ability to use both renderers simultaneously means you can quickly preview your scene on your workstation with the iRay+ Interactive Renderer while rendering remotely for your production work in the iRay+ Renderer.
3ds Max.
iRay for 3ds Max is designed to complement, not interrupt, your existing workflows. The number of iRay-specific user interfaces has been reduced to a minimum and, if possible, moved to 3ds Max to perform tasks. When we use our own objects and parameters, we present them clearly and in the familiar formats of 3ds Max.
Powerful.
Iray for 3ds Max is designed to make the most of GPU hardware and ensure that your rendering is as fast and powerful as possible. We recommend using Nvidia GPUs to improve the performance of your rendering. Local and remote rendering is fully supported and can be used with many batch rendering tools.
Expandable.
Iray for 3ds Max is just one of many future products in the iRay product line, all compatible with this and other Nvidia iRay-enabled software. This allows MDL materials and other elements to be used at any stage of a workflow from prototyping through inspection, simulation and manufacturing. Iray for 3ds Max includes conversion of Mental Ray® and Autodesk materials to quickly update all existing scenes.
Flexible.
Nvidia's iRay is used by professionals in many industries including automotive, jewelry, architecture, product, interior design and many more. An extensive material library forms the basis for the creation of almost all materials. MDL provides a powerful method for printing and dividing materials.
We hope we have been able to give you a brief insight into the subject. If you have any questions or suggestions on this topic, please feel free to contact our experts in our forum.
Thank you very much for your visit.