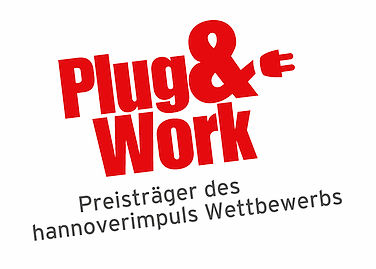 In August 2013, we were given the Plug&Work Award by the organization hannoverimpuls. Hannoverimpuls is a business development agency of the state lower saxony. The organization promotes actively the settlement and growth of companies in Hanover. The emphasis is on the analysis of six different sectors with sustainable growth and the potential to create a lot of new jobs.
The price Plug&Wort are awarded four times per year for new business concepts in Hanover. The competition promotes StartUps at the beginning of business activities. The winning companies can network with a lot of different companies by the membership of sector networks and get rent-free office spaces for a period of one year. In addition, the winning company get a individual starter package. The starter package consists among other things of a strategic coaching and a IT support.
Since November 2013, we have been working in the hall 96 of the historical building hanomag. The hall 96 is reserved for companies from the creative industry. The price was awarded for our business concept to create 3D configurators in Realtime-3D. Our acitivity in the competition was focused on the advantages of Realtime-3D.
We spotlight the fact that the market will continue to grow by the technical progress.