A 3D configurator enables you to adapt an object in all possible variants directly from your browser. The user can implement complex solutions with simple steps by knowing all the features of the product and selecting accessories or other options.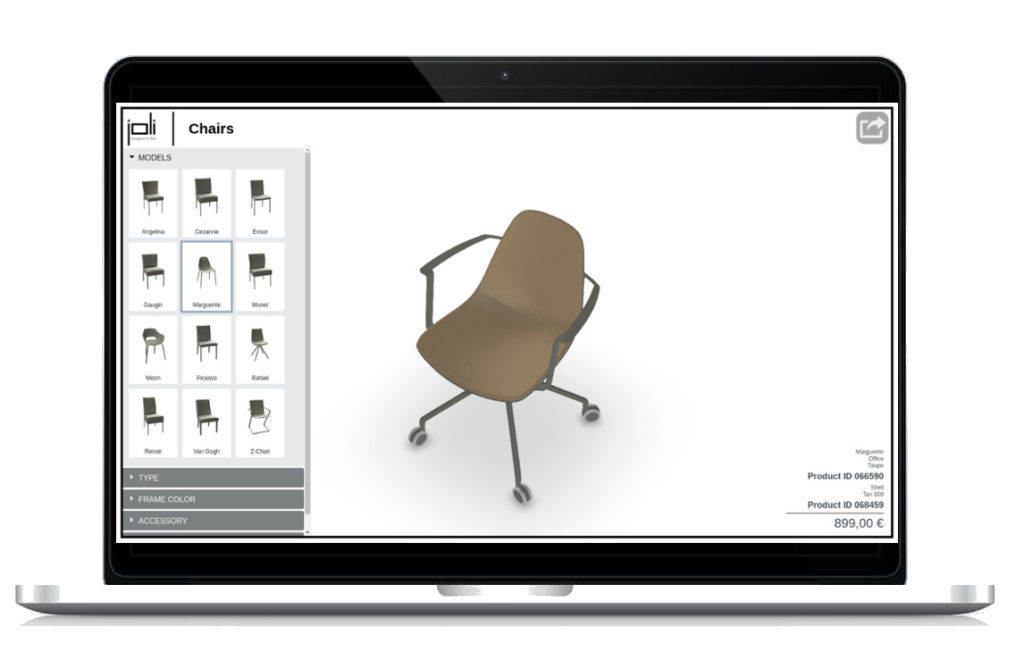 Users do not need to install a plug-in or add-on to use the configurator, because it is executed directly in the browser.
The benefits for the customer.
There are countless advantages for the customer:
You have the possibility to design the product according to your wishes
You do not have to install anything, as the configurator is started directly from the browser
You know all possible adjustments
Direct access to the configurator via the manufacturer's website
A strong emotional attachment via direct interaction with the product
You have the possibility to see the product or object from any perspective and in great detail by zooming and rotating
Have a simple user interface that guides the user through the configuration
The code of the configured product by the user can also be saved. This function makes it easier to place a delivery order for the configured product
The benefits for the manufacturer.
Advantages for manufacturer:
Manufacturers have a tool that facilitates the sales process and attracts the attention of potential customers
Optimize your time, because it is the customer himself who knows the product, its characteristics and personalization in complete autonomy
Thanks to the cloud technology developed by Airlapp, you can easily integrate the configurator into your website or resellers one
By providing updates, the products can be updated quickly
Manufacturers can collect data that is useful for market analysis. Some examples are customer preferences, more selected details, more clicked products etc. with the ability to track from which location and geographical area the data originate. This data allows us to focus on the most interesting adjustments or to accompany the development of future products.
Increase the visibility of your brand and differentiate yourself from your competitors. Your manufacturers will have configurable products on their website, while competitors' products will only be represented by photos
Configurable products will always be up to date thanks to the cascading release via the cloud.
The 3D production models can be reused with Airlapp's services
Example of a 3D web configurator for furniture
To demonstrate the potential of this technology, a demo has been created which can be accessed via the following link:
This Demo allows you to configure the style, variations and colors of a chair. The configurator also considers the selection of configurations that can be selected from the catalog.
3D configurator for each product.
Can you apply this technology to your products? Absolutely yes.
If you also need a 3D configurator for your website, write to us. We will be happy to provide you with a free offer.