Against the background of an increasing spread of interactive 3D content like 3D configurators on the internet, we would like to conduct a short, internet-related market analysis of 3D software in this article.
Various providers have established themselves on the market for several years. In this article we would like to take a closer look at the internet-related market situation of the four best-known software solutions 3ds Max and Maya by Autodesk, Blender and Cinema 4D.
In a first step, we will use Google`s keyword planner to determine the search volumes of the various keywords. Afterwards we will use the tool "Google Trends" to gain further interesting insights.
The following table contains the search volumes according to the keyword planner:

Blender is the most frequently searched site with 1.000.000 search queries. Followed by Maya, whereby it must be considered here that Maya can naturally also refer to the corresponding ettnic group. The search term "Autodesk Maya", on other hand, has 49.500 search queries. Cinema 4D and 3ds Max however 201.000.
In order to gain further insights, we use Google Trends. The following figure illustrates the demand for the 3D software solutions already mentioned in the last 12 months.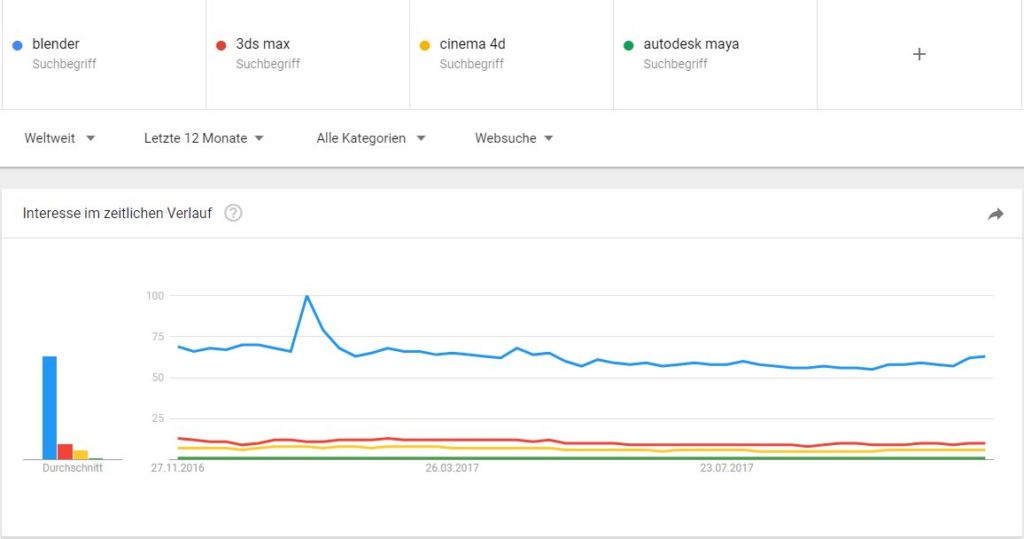 We see that Blender has significantly higher search queries. The demand for 3ds Max, Maya und Cinema 4D is significantly lower.
When it comes to interest in regions, we can see that Blender is ahead in most countries of the world. Only in countries like Iran, Kazakhstan or China is Maya from Autodesk ahead, In addition, Cinema 4D is more in demand on the internet in South American countries such as Bolivia and Uruguay.

Conclusions.
According to both the keyword planner and Google Trends, the open source solution Blender is currently the most sought-after software solution in the 3D sector on the market.
Only in individual countries such as Iran, Bolivia, Kazakhstan or China are Autodesk`s rather expensive solutions attracting more attention.
But Blender is most in demand in core markets such as the USA, Australia, Russia and Europe.
Of course, Blender is open source and therefore easy for anyone to download and test on the internet. However, there are many other aspects that speak for Blender, such as ease of use.
This is shown by some outstanding works that were realized with Blender.