DAQRI, a leading Augmented Reality (AR) innovator, recently released its smart helmet called "the world's first portable man-machine interface".
In the following article we present an interview with DAQRI Vice President Matt Kammerait about the helmet, the company's strategy and the future of AR and similar related areas such as robotics. The original interview can be found on the following website. DAQRI is well suited for testing 3D configurators.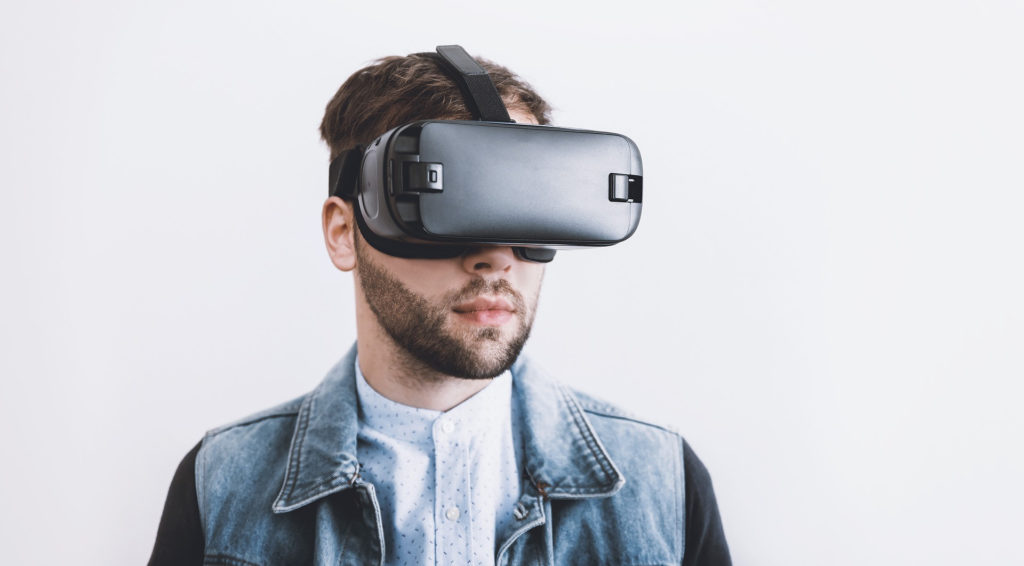 Smart Helmet – What's so special?
The helmet is designed to fit into a variety of industrial environments where workers have to interact with machines and an often difficult environment. It has a helmet exterior, a face shield, a range of cameras, including infrared and HD, four microphones and a sensor package that allows 360 degree detection of the environment around the worker.
The helmet allows the worker to see the current scene in front of him, while the AR also displays information about the elements he is looking at. They can communicate as needed and retrieve relevant information or assistance.
Kammerait describes the helmet as "balanced, highly protected and designed to fit into the user's existing ecosystem". This is critical because in typical use cases, the Helmet wearer will obtain information from the company's existing system or facility and make new entries.
The aim was to make the helmet ready for use and safe even under extreme conditions and to make operation as hands-free as possible.
Inside Smart Helmet: the inside and apps.
The helmet uses an Intel RealSense camera package, which Intel claims can "see like the human eye" to capture depth and track human motion. It also includes Intel's Sixth Gen Core M7 processor. The Intellitrack program developed by DAQRI enables visual inertial navigation.
The first applications for the helmet include:
Advanced step-by-step instructions,
Thermal visibility that can detect temperature problems in equipment or environments,
Data visualization – providing an employee with data displays of a type available in a control room.
Connection to remote experts.
The company provides case studies on each of these capabilities, which are used in real industrial customer construction sites.
Since the helmet typically needs to be able to communicate with the customer's existing information ecosystem, this may often require some adaptation of the software or integration. Kammerait said that the company does not plan to offer customization as a service, but will work closely with system integrators such as Accenture or IBM who can provide the service.
Connectivity capabilities.
In terms of connectivity, the helmet has WiFi, Bluetooth and wireless capabilities. However, he notes that mobile phone use is not yet certified. The exact connection methods are typically determined by the regulations of the industry the customer is in.
There are situations where the helmet can operate in a mode that is not connected to the customer's ecosystem. An example could be when a group is brought into a high security facility. In this case, the data is collected on the device and transferred later.
When connected, the helmet can communicate with the existing ecosystem. It can be collecting and transmitting new data or receiving existing data. The helmet is equipped with information about the accepted readings and can detect abnormal data and send alerts for possible emergencies.
While the helmet is designed to allow the wearer to speak hands-free as much as possible, Kammerait pointed out that in some situations it is necessary to use a secondary device. Currently, they can accommodate the use of smartphones, but not tablets. In these cases, the secondary device is used for touch control signalling.
The system also allows voice commands and angle tracking. For example, if you look to the left for a certain number of seconds, you will see information about the item you are viewing.
Great importance has been attached to reducing the latency of information transmission in all functions of the helmet. Kammerait says that they will limit it to one frame and try to reach a threshold of 10 milliseconds.
DAQRI's way to Smart Helmet.
The DAQRI has made an interesting journey to its current status. Originally, the company was a provider of AR software that it wanted to sell to companies like Microsoft and Facebook for wearables applications.
Kammerait explains that hardware such as Google Glass and other early-stage AR devices are not suitable for heavy industrial use. DAQRI started from scratch, "with a blank sheet of paper where the company was not looking for ways to achieve add-on capabilities for endpoints.
They decided to focus on industrial companies. "We believe that we are unique because the other suppliers in the industrial market are also partly involved in consumer solutions, we are not. It allows the consumer sector to "make sense" for the company at some point in the future.
During the time DAQRI was working towards the helmet, he recorded impressive growth, from 30 employees in 2013-14 to over 300 today. The company's business in the meantime has also been partly derived from pilot programs with leading industrial companies on human-machine interfaces and another product line, DAQRI's 4D Studio. 4D Studio provides an authoring environment for IoT-related software, such as work instructions. Sales also included a significant portion of services, such as training users in the use of AR.
Holography & Automotive AR – Two Trees acquisition.
In March 2016, DAQRI acquired Two Trees Photonics, a provider of dynamic holographic technology. After a long development period, Two Trees began supplying technology to the automotive industry for a head-up display of driver windshield information, with Jaguar Land Rover as the first customer.
In addition to the possibilities of integrating holography into DAQRI's industrial products, Kammerait is very excited about the possibilities in the automotive sector. "We were a little sceptical about the market at first, but that changed after discussions with automotive partner companies. He sees a major role for AR in vehicles, for apps such as the provision of instructions for drivers and 360-fold information access.
DAQRI growth plans and strategy.
As the company is only at the beginning of the helmet sales cycle, the first strategy is to increase sales with this product. Kammerait explains that they are focusing on customers who have significant equipment monitoring and inspection expenses. In these cases, they are likely to replace the purchase of tablets or other computers. He believes they can achieve sales in the hundreds of thousands of units of the first Helmet product configuration.
He explains that this is a high-end capability and they can also offer variants at lower prices. In any case, he notes that they are already experiencing strong demand and that the supply of helmets is limited. (CNET speculated that the helmet would be sold for $5,000 – $15,000 per unit. "Head on with an intelligent helmet named after a delicious drink".
He is also optimistic about their potential in the automotive sector. He says: "It will be big, like the helmet".
In addition to the recent acquisition of Two Trees, the company made further acquisitions in 2015 that expanded its product range. These included Melon, which offers an EEG tracking headband that detects brain electrical activity that the company claims would be used both within the Smart Helmet and for potential healthcare applications.
They also acquired ARToolworks, which produced the ARToolKit libraries. DAQRI officially commented on ARToolKit as follows: "ARToolKit is a cross-platform Software Developer Kit (SDK) that allows developers to create AR applications for all major platforms – Linux, Mac, PC, Android and iOS".
Robotics & AR – the future.
We asked Kammerait about the fact that robotic devices work in many of the environments the helmet aspires to, and about his view of the future. He explained that he sees the capabilities of man to machine improving side by side in the industrial environment.
"We will see that both will be optimized," he said, "but there are situations with problem solving and critical thinking with many inputs that require human commitment. For more repetitive tasks, machines can be better. But a human being must guide the machine at critical points."
He also noted that DAQRI is working on the "bloody edge of sensor technology". He says they are working on developments in a number of areas, including AI, organic and neural networks. He noted that there is a confluence of developments in both the software and physical domains. He points out that "With IoT, you need a translation layer so that people can use the flow of information".
AR is developing more and more from the nice to the important.
We remember the days when the example of an AR app was something like the following: "You are standing in a piazza in Bologna pointing your smartphone at a restaurant and information about the menu, opening hours, etc. appears on the screen".
Nice, in other words, to have hardly any promising significant valuation effects in the real world.
In contrast, the Smart Helmet is a development that promises potential real added value.
In addition to this highly interesting development, we are very fascinated by the constant interaction of machines, i.e. robots and people at the workplace. We consider Kammerait's comments on the useful complementary relationships worthy of further consideration in future contributions.
Thank you for visiting.