Online trading is growing from year to year. Both B2B and B2C companies see the results. With increasing acceptance, consumer expectations have also risen. If customers do not see all product colors and views, this has a negative impact on their purchasing decision. The use of 3D configurators in eCommerce has also become normal.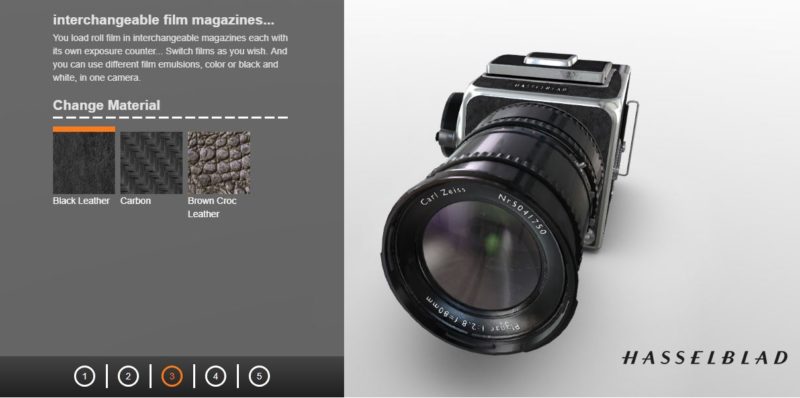 We also discuss 3D web technology and its role in the creation of product configurators. 3D configurators are infinitely flexible and more efficient to create than their photo-based counterparts. They also fulfill consumers' desire for richer experiences. According to KPMG's Global Online Consumer Report 2017, "creating an online shopping experience that is enhanced by technologies such as augmented and virtual reality or 3D is at least as important as providing convenient and personalized ordering, payment and delivery options.
There are a number of great examples of 3D configurators online. It seems that more are being added each month. That's why we've decided to introduce 10 3D configurators from U.S. vendors that are known across their borders.
Smythe & Digby.
Smythe & Digby, a retailer of high-quality men's shoes, offers its customers a unique real-time configurator. Once you test the configurator, you'll immediately see why the company has made it to the list. They allow you to customize 14 different shoe styles. Consumers can customize colors and finishes in all areas of the shoe including toe, heel, side, sole, tongue, laces and lining.
The experience allows full 360-degree views of the product on each axis. Once a shoe has been fitted, a snapshot can be taken from any angle. The snapshot of your creation can be downloaded, shared on social media or printed.
The only real drawbacks are the lack of a zoom function and some additional loading times when selecting new options. These are minor inconveniences as the UX is otherwise very rich overall.
Bikeconfig.com
The configurator of Bikeconfig offers a high degree of photorealism despite very complicated details in the 3D modelling. In addition, an almost infinite number of parts can be adapted. From the handles to the brakes, there are too many to list. The configurator allows you to select different models per part, each with 12 different colours.
This experience also allows full 360-degree views as well as a top-down view. Full zoom is allowed, although it is very sensitive, which makes control difficult. A snapshot of the current configuration can be created and downloaded. There are also some additional features such as dimension lines and saving up to 4 configurations.
This 3D configurator is slightly different from the others on the list. It was created by a company called Elementals as a proof of concept. Elementals hopes to arouse much interest in the project in order to bring it to market.
Coalesse LessThanFive Customizer.
We don't want to leave this 3D configurator unmentioned because it is both simple and elegant. Just like the product. Coalesse's LessThanFive chair is referred to as such because it weighs less than 5 pounds. The carbon construction makes it slim and light. The fact that you can make any adjustments makes it special.
The design of the configurator is simple but powerful. Simply select colors, add your own graphics and share them with others. Colors can be fully customized, including the ability to create gradients. Add your own artwork to create your own personal chair. Once you've finished your desired product, you can share it with friends and acquaintances via social media.
Under Armour ICON.
The Under Armour ICON is the second shoe configurator on our list. Building on the popular Nike ID concept, Under Armour has increased its use by creating a 3D version. This gives the consumer even more flexibility.
At the heart of the ICON experience is a fully interactive model. The shoe can be rotated at any angle for viewing. There is also a single zoom level, which can be the only drawback. It would be nice to zoom further into different areas of the shoe. All parts of the shoe are customizable with some predefined colors. The color selection is now somewhat limited, so that depending on the section 4 to 15 colors are possible. This configurator becomes powerful around the main overlay. Here you have the choice between different patterns and even the possibility to upload your own pictures or logos.
Once you've finished your creation, you can buy, save or share it. Sharing via social media or email allows others to see exactly what you have created in 3D.
Vossen 3D.
This 3D configurator is one of our favorites and was developed to present Vossens wheels and has a bit of everything. A great 3D experience, powerful configurator, solid UX and many extras.
The Vossen 3D experience includes a fully interactive 3D model and not just a single car. You can choose from 36 different makes of car, each allowing a choice of several models. Once you have selected your dream car, you can rotate it to any angle and zoom in freely. You can even configure the color of the car and other things like the height of the windows. The UX is unfortunately clouded by a rather long initial loading time. But once you get past that, the UX is impressive and works great.
Enough about the car, let's get to the purpose of this configurator. Each car has a choice of wheels that can be displayed on the car or individually. The Tesla alone has 49 different wheel types to choose from. After you have selected the wheels, you can configure the color and size. You can even rotate the wheels to see what they look like in motion. If they like their creation, you can add a screenshot to their photo gallery. All photos can be shared or printed on social media or via email.
JEWELv.
We have always wondered why 3D jewellery configurators are not so widespread. Having found this copy of JEWELv, we wonder why there isn't much more.
The pendant we adapted was visible from every angle, on every axis. The experience doesn't allow the user to zoom freely, but offers four predefined views that offer a certain zoom level. Not ideal, but not a big obstacle. The stone and metal can be configured with a variety of predefined options. There are no snapshot and share options, so there is definitely room for improvement.
Overall, we've found this to be a great way to visualize jewelry. The ability to see all angles offered a great perspective on the product. The UX could be further optimized, so this one has some room to grow. It's worth noting that this is the only configurator on our list that was created with Sketchfab.
Xenith Helmets.
This is the first 3D configurator available on the Internet. Xenith was far ahead of the competition and released the configurator in 2015.
The 3D experience itself is fully interactive. The helmets can be rotated around any axis. In addition, the user has full control over the zoom level. A wide range of colours is available for the shell and face mask parts of the helmet. The face mask style can even be selected from over ten different options. Round it off by adjusting the shell and adding an optional visor.
Perhaps best of all, the ability to blow the helmet. This shows the inner technique of all Xenith helmets. This explains why they have been rated the safest helmet by the NFL. After using this configurator, you will understand why the Xenith configurator became known beyond your country's borders.
Michael Andrews BESPOKE.
The Michael Andrews 3D-Experience is the only clothing configurator that made it into this list. The configurator allows customers to personalize shirts with different designs and styles. They can even add a tie to the shirt to complete the look.
The 3D experience is not as interactive as with other configurators. The rotation is done via a button that rotates between eight predefined angles. The zoom is also switched on or off and limits the available rotation angles.
What the experience lacks in interactivity, it more than compensates in flexibility and visual quality. Switch between different fabric, collar, cuff, pocket and sleeve options. Your shirt can even be personalized with a monogram. The look is photorealistic and leaves no doubt about the quality of the final product. When enlarging the shirt, small details with seams, buttons and folds become visible.
Once your shirt is ready, add it to your bag or wish list. We would be happy to add some snapshots and sharing features in the future. Otherwise, this is a great 3D configurator and definitely one of the best on the web.
Zodiac Configurator.
With the Zodiac configurator you can create a completely individual inflatable boat. If you want to spend 100k on a boat, you should get what you are looking for.
The 3D experience is fully interactive and allows unhindered rotation and zooming. You can also choose between 5 predefined views. The visual quality is strong and at the same time very powerful. Colors can be changed across the entire product, including inflatable hoses, padding, deck, hull and bottom. You can even change the engine and add extra features such as a ski pole or sunroof.
Once your boat is ready, you can download it and publish it on social media. This way you can send it to any new friends you will have when your boat arrives.
Penny Skateboards.
Last but not least we would like to introduce the Penny Skateboards 3D Configurator. We came across it over a year ago and were immediately thrilled. The simple but elegant UX is fascinating and kept us busy longer than we'd like to admit.
The 3D experience is very interactive and allows full rotation. The absence of the zoom is a strange omission. But we can forgive that, given the other successful presentation. Colors can be completely personalized for decks, wheels, trucks, bolts and more. All options are easily accessible. But the best part is how the skateboard automatically rotates according to the selected option.
Once you've created your skateboard, you can buy it or publish it on social media. You can even see your skateboard in action by rolling it over the supplied base plate. Whether you skateboard or not, we recommend you try this 3D configurator.
I hope you also had a lot of fun getting to know the most popular US 3D configurators.
Thank you for visiting.