Paint FX is a universal iOS photo editing application (ideal for 3D configurators) that is particularly powerful and entertaining on an iPad, where you can edit an entire photo or just parts of it.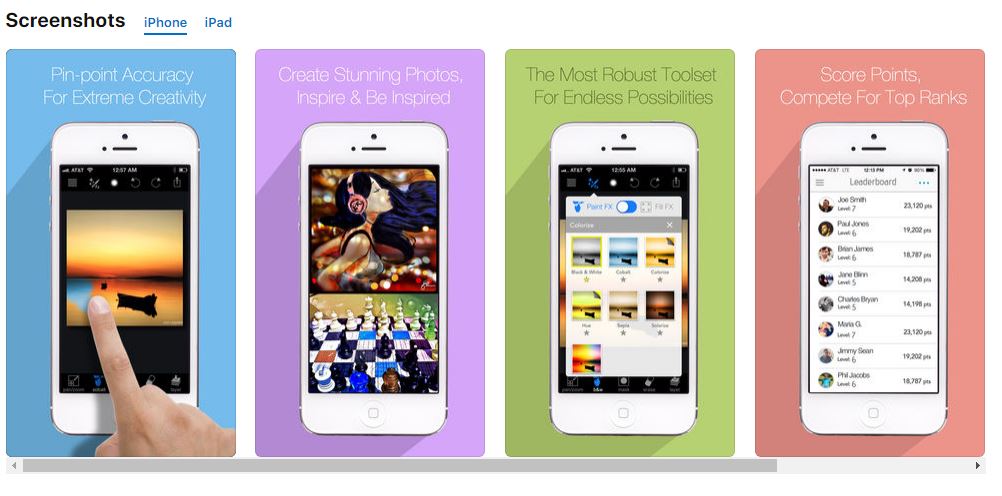 Paint FX is relatively easy to use and a relatively steep learning curve allows you to edit only selected areas of an image.
To start, tap the Load/Share button in the upper left corner to load a photo from your camera roll, photo stream or iPhoto (if you have your iDevice set up to synchronize part of your iPhoto library). You can also take a photo from Facebook. With this button you can also save photos in your camera role or share them via Facebook, email or the Paint FX community page.
Once you've loaded a photo into Paint FX, tap the FX button to select an effect. After my count, there are 69 filters or effects. If you tap the small Paint FX or Fill FX button below the effects belt, you can apply an effect to part or all of the photo. If you select Paint FX, then paint with your fingertip to apply the effect. You can undo and restore changes using the Back or Forward arrow buttons in the upper left corner. You can also tap the Erase button in the row of buttons at the top right to delete an incorrect edit.
With the middle button in the row of buttons in the upper right corner you can edit your brush. You can adjust the sharpness of your edge, opacity, size and other attributes of the selected effect. Each effect has its own set of attributes. To make fine adjustments, you can zoom and then reposition the photo by dragging two fingers onto an area of a photo.
You can add multiple effects to a photo by tapping the Layer button in the upper right corner. This will keep you up to date and allow you to add another effect. If you don't select a new layer, simply replace your current edit with a new one.
The Mask button is also very useful. You can try different effects to find the one you like best. Instead of painting an effect on your photo, you can tap the Mask button, which allows you to mark an area of the photo with your fingertip. After selecting an area, you can then tap the FX key and select an effect without having to redraw the area you want to edit each time.
We hope we were able to give you a brief introduction to Paint FX. If you have any suggestions or questions, please feel free to contact our experts in our forum.
Thank you very much for your visit.